Events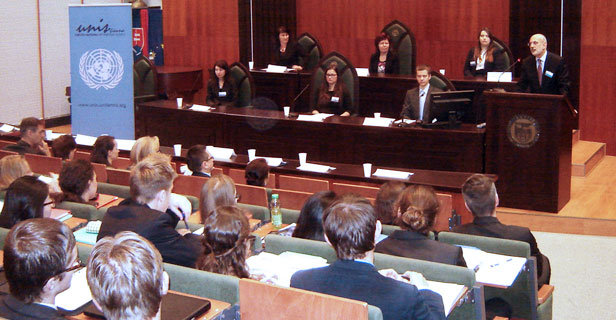 Bratislava Hosts 13th International Model UN for High School Students
The capital of Slovakia was once again host to high school students from numerous countries engaging in simulating international crisis management. The 13th Bratislava Model United Nations Conference (BratMUN 2013 was held from 25 - 27 October 2013 on the premises of the Pan-European University (PEU) in Bratislava. Through simulating the work of General Assembly, Security Council, Economic and Social Council (ECOSOC), Human Rights Council as well as sessions of several UN specialized organizations (UNDP, WHO, UNEP, IAEA), over a hundred of secondary school students from Slovakia, Czech Republic, Poland, Hungary, Ukraine, Turkey and Sweden focused on global themes such as women´s rights, development aid, fight against terrorism, protection of environment and nuclear energy.
Keynote speakers at the opening ceremony on 25 October were Secretary-General of BratMUN 2013 Kristína Jakubíková; Vice-Dean of PEU for International Relations Peter Potásch ; Director General of the Ministry of Foreign and European Affairs, Department for International Organizations, Development Assistance and Humanitarian Aid, Roman Bužek; H.E. Ambassador of Poland Tomasz Chłoń; State Secretary of the Ministry of Education, Science, Research and Sport Štefan Chudoba; Director of UN Information Service (UNIS) Vienna Janos Tisovszky; H.E. Ambassador of Turkey Lebibe Gülhan Ulutekin; Mayor of the urban district Bratislava - Ružinov Dušan Pekár; Director of British Council Alena Rebrová; Director of IB section of the Spojená škola Novohradská Eva Žitná.
Secretary-General Jakubíková set the tone by telling the participants in her opening statement that "I wish you all to have the feeling that the world is in your hands".
All the speakers agreed on the importance of organizing Model UN conferences (MUNs), highlighting their positive benefits, inspiring and motivating aspects, as especially stressed by Director Bužek and their contribution to the experience, skills and increase of potential of young people. BratMUN participants were not only the future of Europe, as noted by State Secretary Chudoba, but also people who care and wanted to be part of a solution, said Director Bužek. Ambassador Chłoń while drawing attention to some of the shortcomings of the UN also noted that if the international community would not have the United Nations, it would have to be created. Director of UNIS Vienna Janos Tisovszky stressed that the Secretary-General's Education First initiative was not just on enrollment into school programmes but also about the quality of education which should lead us to be responsible global citizens - and that BratMUN was a perfect example of preparing for this.
The BratMUN conference has been organized since 2000 by IB students of the Spojená škola Novohradská (Gymnázium Jura Hronca) Bratislava with the support of the Ministry of Foreign and European Affairs; the Ministry of Education, Science, Research and Sport and also in cooperation with United Nations Information Service (UNIS) Vienna.