Events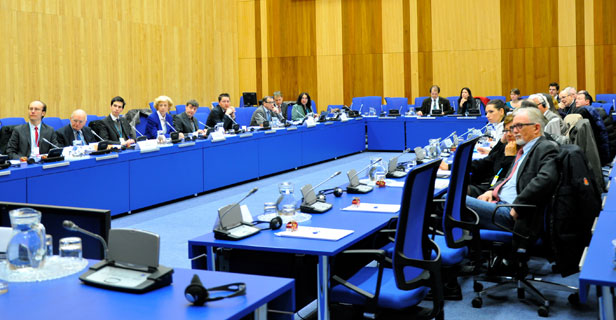 European United Nations Associations Meet at the UN in Vienna to Discuss Joint Projects of Common Concern
At the invitation of the United Nations Association (UNA) Austria, in cooperation with the United Nations Information Service (UNIS) Vienna, the World Federation of United Nations Associations (WFUNA) held its 2013 meeting of European UNAs on 8-9 April at the Vienna International Center (VIC). This was the first time the regular European regional meeting of WFUNA took place at the Vienna Headquarters of the UN.
The meeting titled "The Contribution of the Vienna-Based UN Organizations to Human Security" was attended by UNA representatives from Austria, Belgium, Czech Republic, Denmark, Finland, France, Georgia, Germany, Hungary, Ireland, Italy, Lithuania, Luxembourg, Montenegro, Norway and Sweden, as well as from Slovakia in an observer status.
Participants were briefed by UN officials on the work and challenges of their respective organization in view of human security. The meeting furthermore provided a platform for discussion on joint projects and questions of common concern.
WFUNA Secretary-General Bonian Golmohammadi and UNIS Vienna Director, Janos Tisovszky welcomed the participants and opened the meeting. Janos Tisovszky highlighted the special relevance of the UN in Vienna to European audiences, and UNAs as key partners in promoting the work of the United Nations.
UNODC Deputy Executive Director Sandeep Chawla welcomed the participants on behalf of the Director-General of the United Nations Office at Vienna, Mr. Yury Fedotov. He then gave a detailed outline of some of the strengths and challenges of the UN´s work on countering crime and drug trafficking, and pointed to the paradigm shifts and challenges related to the notions of national and human security.
Serge Gas, Director at the Division of Public Information of the International Atomic Energy Agency (IAEA), highlighted IAEA's work on the development of safety standards. He furthermore referred to the importance of the IAEA research facilities.
Benedikt Mandl from the International Commission for the Protection of the Danube River (ICPDR) explained the work and the structure of the Commission, and outlined the Commission's work in relation to water as a key to human security which had special relevance as 2013 was the international year of water cooperation.
Lassina Zerbo, Director of International Data Center and Executive Secretary-elect at the Preparatory Commission of the Nuclear Test Ban Treaty Organization (CTBTO), and Spokesperson Annika Thunborg, gave an overview of CTBTO's activities and insight into CTBTO's unique data gathering system. The participants were also taken on a visit to CTBTO's Operation Centre and roof-top radionuclide station.
Mazian Othmann, Deputy Director-General at UNOV and Director at the UN Office for Outer Space Affairs (UNOOSA) and Romana Kofler, highlighted the work and efforts of their office to bring the benefits of space to humankind as well as briefed on some of the key current space exploration challenges the Office was dealing with.
The participants of the meeting were invited to a lunch reception by H.E. Christine Stix-Hackl, Permanent Representative of Austria to the United Nations in Vienna..
An internal session and discussions concluded the meeting.