Events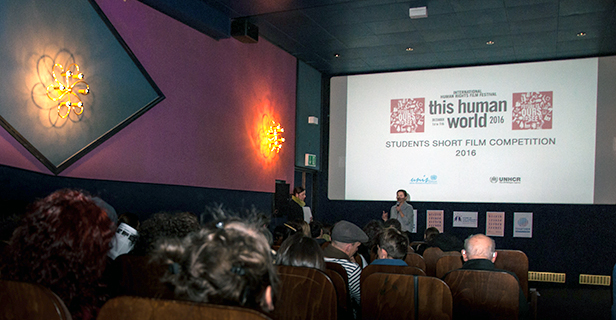 Student Art and Short Film Competition Award Ceremony: Young creatives stand up for human rights
" The Future is Ours to See" was the theme for this year's Student Art and Short Film Competition on Human Rights. Students and young people from 10 to 20 years old from Austria, Hungary, Slovakia and Slovenia were invited to present their perspectives, hopes, fears and visions on this theme in film and art.
Their contributions touched upon different topics related to human rights, including the situation of refugees, asylum and integration. On 5 December, the young creatives received their awards during a ceremony at Topkino, Vienna, where the films were shown in the presence of the winning teams from Hungary, Austria and Slovakia.
This was the eighth short film competition organised by the Film Festival on Human Rights this human world and held under the auspices of the United Nations Information Service (UNIS) Vienna and the Office of the United Nations High Commissioner for Refugees (UNHCR) in Austria with the support of the Austrian Federal Ministry of Education and Women's Affairs.
The young filmmakers showed sensitivity to global migration challenges and to the human rights violations refugees frequently endure. "It was striking to see how prominently the refugee theme featured amongst the students' submissions," said Ruth Schöffl of the Office of the United Nations High Commissioner for Refugees (UNHCR) in Austria.
Not only were students acutely aware of these issues, they also displayed great enthusiasm to stand up for human rights and promote awareness amongst the public. In their acceptance speech, one of the winners emphasized that: "People frequently choose to look the other way when faced with atrocities happening in our world. Quite in contrast, our film aimed to focus the viewer's attention on those human rights violations. We wanted to make people care."
This reflects the spirit of this year's Human Rights Day theme " Stand up for someone's rights today" noted Irene Höglinger-Neiva of UNIS Vienna. She also commended the hard work of the award winners. After all, some students assiduously worked on their projects every day for more than six months.