Events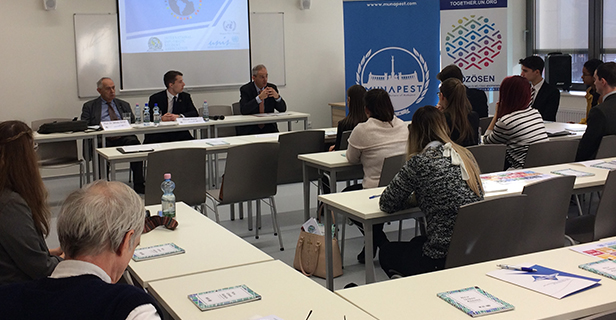 Budapest and sustainable urbanization
BUDAPEST, 8 December (UN Information Service) - The International Diplomatic Students Association (IDSA) organized the "Save today, use tomorrow, live sustainable: Budapest and the UN's New Urban Agenda" conference on 28 November to promote the outcome of the Third UN Conference on Human Settlements and Sustainable Urban Development (Habitat III), which took place in Quito, Ecuador in 2016.
In his opening remarks the Director of the UN Information Service (UNIS) Vienna, Martin Nesirky, talked about the connection between urbanization and the Sustainable Development Goals: "Clearly many of the 17 Goals will succeed or fail depending on our ability to handle urbanization. And conversely, many of the Goals can contribute positively to those efforts." The conference saw a video message from the Executive Director of UN-Habitat, Dr. Joan Clos, who said that if urbanization was well-managed it could be a tool for development.
Then the President of the United Nations Association of Hungary (UNA-Hungary), Professor Mihály Simai, talked about international cooperation and sustainability, with a special focus on the United Nations Human Settlements Programme, including the New Urban Agenda and the first two UN Conferences on Human Settlements and Sustainable Urban Development.
Before the second session on "Sustainability and Budapest", the audience watched a short video about how the New Urban Agenda is being implemented in Vienna. The speakers of the second panel discussion were the Vice-President of the Hungarian Society for Urban Planning, Dr. János Kocsis, Advocacy Manager of Habitat for Humanity Hungary, Bence Kováts, and Founder of Mindspace, Ádám Kobrizsa. Mr. Kováts spoke about housing policy in Hungary and its effect on housing conditions in Budapest. He also talked about what measures were necessary to improve housing in accordance with the provisions of the New Urban Agenda. Mr. Kocsis spoke about the implications of gentrification and suburbanization on Budapest. Finally the participants heard from Mr. Kobrizsa who shared his views on how individuals can shape city-life, urban planning and urban policies.
The event was jointly organized by the IDSA, UNIS Vienna, the UNA-Hungary and supported by UN-Habitat Brussels.