Events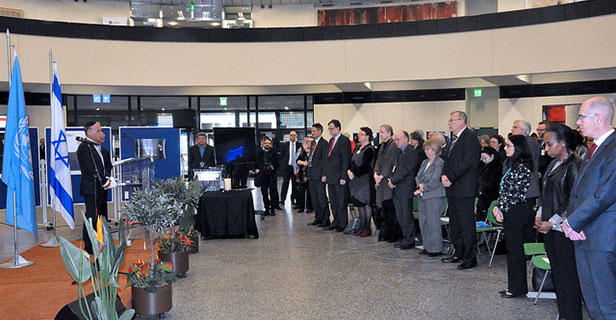 Remembering the victims: events marking International Day of Commemoration in Memory of the Victims of the Holocaust
Each year, on International Day of Commemoration in Memory of the Victims of the Holocaust, the United Nations Information Service (UNIS) in Vienna organizes various events in cooperation with partners in Austria, Hungary, Slovakia and Slovenia.
The first event this year took place on 25 January at the Business School in Levice, Slovakia, where a group of students organized a workshop to remember and commemorate the victims of the Holocaust.
On 26 January, events were held at the Vienna International Centre, Austria, and at the Holocaust Memorial Centre in Budapest, Hungary. Both events included a poster exhibition featuring the twelve best entries of the International Poster Competition 2017-2018 "Keeping the Memory Alive - Our Shared Responsibility". The competition was a joint project by the Holocaust and the United Nations Outreach Programme and the Yad Vashem International School for Holocaust Studies.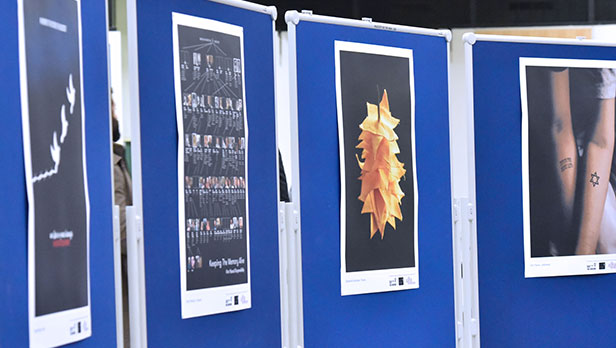 Besides being the main attraction in the Rotunda of the Vienna International Centre, the poster exhibition also provided a backdrop to the special ceremony commemorating Holocaust Remembrance Day. The Director-General of the United Nations Office at Vienna (UNOV) and Executive Director of the United Nations Office on Drugs and Crime (UNODC), Yury Fedotov, and Ambassador Talya Lador-Fresher, Permanent Representative of Israel to the United Nations in Vienna, spoke to mark the importance of the occasion. The ceremony also included a musical performance by Chief Cantor Shmuel Barzilai and pianist Eli Meiri. In Budapest, the poster exhibition will be on display until March 2018.
To mark the day in Ljubljana, Slovenia, UNIS Vienna cooperated with the Gallery of the Faculty of Social Sciences and the UN Association of Slovenia to open an exhibition titled "Hate Speech as a Crime". Prepared by the United States Holocaust Memorial Museum, the exhibition consisted of posters of Nazi propaganda campaigns and their legacy.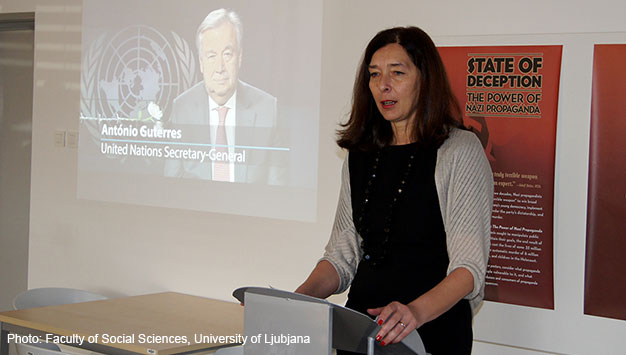 On 29 and 30 January, UNIS Vienna organized two screenings of the documentary "The Essential Link: The Story of Wilfrid Israel". The first screening, organized in cooperation with the Permanent Mission of Israel and the Permanent Mission of the United Kingdom to the UN in Vienna, was part of UNIS Vienna's Ciné-ONU monthly film series. The film screening was followed by a panel discussion with Ambassador Talya Lador-Fresher, film director Yonatan Nir, and the Director of the Jewish Museum in Vienna, Danielle Spera.
The documentary told the story of Wilfrid Israel, who, through his instrumental role in the Kindertransport operation, rescued thousands of Jews from the Holocaust.
Director Yonatan Nir said "he [Wilfried Israel] is a role model to me, because the way he behaved was remarkable".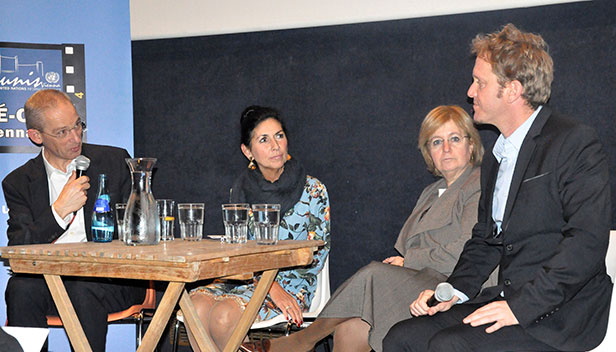 UNIS Vienna organized a second screening of the documentary at the Vienna International Centre (VIC). Film director Yonatan Nir also attended the screening and answered all questions raised by the highly interested audience.