Events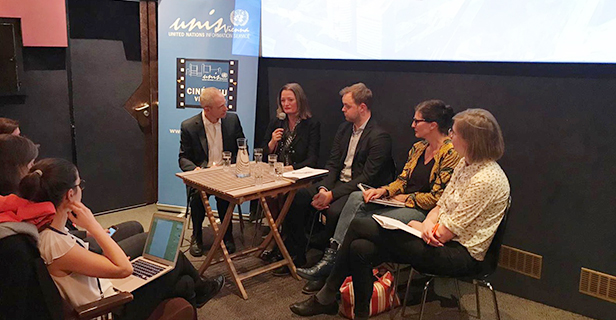 "City of Joy" - Turning pain to power
On 4 March, Topkino Vienna opened its doors for the viewers of the deeply touching and award-winning documentary on sexual violence in conflict called "City of Joy" to mark International Women's Day. The United Nations Information Service (UNIS) Vienna in cooperation with the UN Women National Committee Austriaand this human world film festival introduced the film to the Austrian public and sparked a vivid discussion after the screening.
The film, by first-time director Madeleine Gavin, took the audience on an intimate and inspiring journey to the Eastern Democratic Republic of Congo - a region plagued by the ongoing proxy war for the area's vast mineral resources. As the regional conflict has played out since 1996, widespread political upheaval, displacement, disease and unimaginable sexual violence have ripped apart Congolese society. In 2011, the Nobel Peace Prize laureate Dr. Denis Mukwege and other activists founded City of Joy - a transformational leadership community for female survivors of sexual violence. Since then, more than 1,100 women have graduated, healed themselves and become leaders in their communities.
The screening was traditionally followed by a panel discussion with invited guests who are actively contributing towards the well-being of women around the world: Desiree Schweitzer, President of the UN Women National Committee Austria, Maaike van Adrichem, Gender Adviser at the Organization for Security and Co-operation in Europe (OSCE), Jesper Samson from Crime Research Section at the UN Office on Drugs and Crime (UNODC) and Doris Burtscher, Medical Anthropologist and Qualitative Researcher from the NGO Doctors Without Borders. Burtscher emphasized that it's all a consequence of more than 20 years of ongoing war: "As long as the conflict is happening, the violence will not be reduced."