Events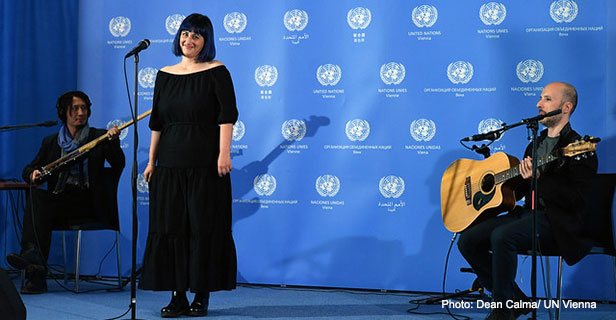 We Are Walking On. A song for planet earth and a message of hope
Sadaharu Yagi, a multiple Grammy-award winning producer and composer from Los Angeles, presented a song written expressly for the United Nations Environment Programme (UNEP) during the 2019 World Environment Day celebrations on Friday, 7 June at the United Nations in Vienna. The event closed with a video accompanying the song, directed and produced by award-winning director Puja Maewal.  
The song, "We Are Walking On", was written to promote environmental issues highlighted by UNEP and to promote the Sustainable Development Goals. Yagi, who spoke prior to a live performance with his bandmembers Federico Ferrandina and Azzurra, described how the process of writing the song was a passion-fuelled, personal journey. A native of Kitakyushu city in Japan, Yagi described how in the 1960's, his hometown was burdened with the highest pollution levels in the nation and managed, through a concerted effort on behalf of governmental organizations and everyday citizens, to rectify the situation and reverse the damage.
The efforts were so successful that today, Kitakyushu enjoys some of the lowest levels of pollution in the country. In 2011, the OECD selected the city of Kitakyushu as First Model City for Green Growth in Asia, and it is considered a global example of how to overcome severe environmental issues. Yagi noted that as a child he was aware of the importance of protecting the environment but that he also fell in love with music. The opportunity to compose "We Are Walking On" enabled him to use his artistry to further a social commitment that has always been a part of his life.
Speaking after the event, he said:  "People know a problem when they see it and are often aware if they are contributing to it and how to minimize that negative contribution. This is, however, an intellectual process. It is very different to feeling the problem and feeling that you really must change your behaviour. That is a change that happens in the heart and it is one of the most powerful functions of artistic expression. I know that music has this power and watching Puja Maewal's incredible video, it is clear that filmmaking - in the hands of a great director - has that power as well."
The event on 7 June was a reminder of the social impact that art can have when allied with social issues. In particular, it highlighted the pressing need to protect our environment - a need that transcends all boundaries.
The event, held under the theme "Beat Air Pollution", was organized by UN Environment Vienna Office - Secretariat of the Carpathian Convention, in cooperation with UNESCO Club Vienna and the United Nations Information Service (UNIS) Vienna