Events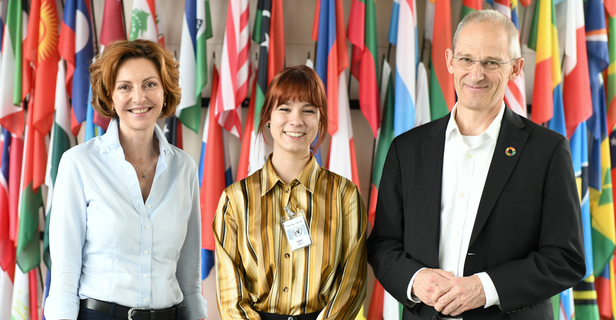 Winner of the 2022 Human Rights Olympics Essay Competition visits the United Nations in Vienna
"Since the beginning of the COVID-19 pandemic, online platforms have become increasingly important spaces of public life and discourse. How can the application of human rights to online activities ensure that online platforms are accessible for everyone and stop the spread of online misinformation and harassment?"
Young people across Slovakia were asked to think about these pressing questions and take part in this year's Human Rights Olympics (HRO) English essay competition, hosted by the United Nations Information Service (UNIS) Vienna.
With her outstanding essay on how to stop the spread of online misinformation and harassment, Ema Rapavá, a highs chool student from Trnava, Slovakia, won the essay competition. You can read her essay here.
UNIS Vienna Director Martin Nesirky was happy to welcome Ema and her sister Lenka, who accompanied her, to the Vienna International Centre on 24 May along with Ingrid Ruzickova from the Permanent Mission of Slovakia in Vienna and to personally congratulate Ema for her achievements.  
After a guided tour through the UN headquarters building, Ema and her sister talked to UNIS Vienna staff about how to engage youth and encourage young people to tackle the spread of misinformation and other challenges. They also had a meeting at the Slovak Permanent Mission and spoke with some of the diplomats there. "Visiting UNIS in Vienna and the Permanent Mission of Slovakia has been an enriching experience for me. I learned more about the work of the UN and made new contacts. I would be very happy to come again sometimes in the future," said Ema after her visit.
The Human Rights Olympics (HRO) is a yearly national competition for secondary school students aged 15 to 19 years in Slovakia, focusing on promotion and protection of human rights. The 24th HRO edition 2021/2022 was launched by the Slovak Ministry of Education in September 2021 under the overall theme "Digital age: end or restoration of human rights?".

More than 2,500 students from about 320 secondary schools from all over Slovakia took part in the HRO edition 2021/2022, accompanied by 760 teachers. HRO received the European Citizen's Prize 2020 - an award for exceptional achievements awarded by the European parliament.