Press Releases
For information only - not an official document
UNIS/VIC/170
20 May 2010
First Vienna Schools' Model United Nations wraps up at the
Vienna International Centre
18 - 20 May 2010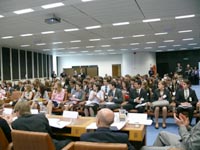 VIENNA, 20 May (UN Information Service) - Hosted by the United Nations Information Service in Vienna, a three-day long Vienna Schools' Model United Nations (VSMUN) ended today, 20 May 2010 with student delegates adopting resolutions in the final session of the simulated General Assembly of the United Nations. The resolutions adopted related to issues discussed during the past three days by the 135 participants from 15 schools in Vienna, Lower Austria and Berlin, Germany. Issues discussed and debated ranged from the global economy to terrorism, whaling, refugees, water for Africa, human trafficking, illicit crops, indigenous peoples, child labour and rain-forests. In the final session, UNIS Director Maher Nasser thanked Sonja Graf, history and sports teacher at the GRG Wien XIX Billrothstrasse school, for her initiative and hard work in organizing the first Vienna Schools' Model United Nations and presented her with a Certificate of Appreciation. In addition to UNIS, VSMUN also received support from the Academic Forum for Foreign Affairs (AFA).
Speaking at the opening session, GRG Wien XIX Billrothstrasse School Director Günter Russe said, "It is quite common today to hear the complaint that you people are not interested in politics or current affairs. The fact that we have so many interested young people sitting in this room, ready to learn and to debate and that we were 'fully booked' within several days of announcing this VSMUN proves the opposite."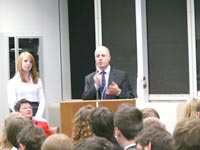 In the opening session on Tuesday, 18 May, Mr. Nasser welcomed the participants and their teachers to the United Nations in Vienna and expressed his pleasure at being able to facilitate holding the first Vienna Schools' Model United Nations in UNIS premises. He further elaborated on the importance placed by the United Nations Department of Public Information on such conferences which are seen as an excellent opportunity for participating students to learn more about the work of the United Nations and priority issues around the world. These conferences also offer an opportunity for students to get "hands-on" experience in debating and public speaking as well as developing negotiating skills in a simulated multilateral environment. Driven by the enriching experience and the enthusiasm generated by a Model United Nations, many participants in such simulations seek career opportunities in the organization itself or join the diplomatic service of their countries to serve at the respective Permanent Mission accredited to the United Nations.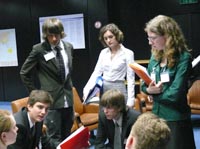 On the closing day, the VSMUN participants had the opportunity for a question and answer session with Austria's Permanent Representative to the United Nations (Vienna), Ambassador Helmut Böck. The students were very interested in real life debates - "Do you actually achieve consensus?" - as well as in internship opportunities and Ambassador Böck's own career path. "When I started as a young diplomat with the Austrian Permanent Mission in New York, I dealt with many students participating in Model United Nations and found their interest, enthusiasm and dedication stimulating. By participating in such an event, you will already have gained an insight into mulitlaterialism," said the Ambassador.
UNIS Director Maher Nasser reiterated his thanks and appreciation to the organizers and to all participating teachers and students. After presenting Ms. Graf with the UNIS Certificate of Appreciation, he expressed his hope that VSMUN would become an annual event.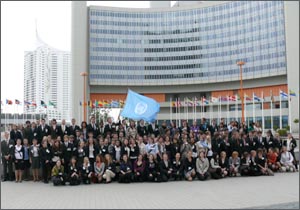 * *** *
For further information, please contact:
Elisabeth Wächter
Chief, Visitors Service, UNIS Vienna
Telephone: (+43-1) 26060-3348
Email: Elisabeth.Waechter@unvienna.org