Events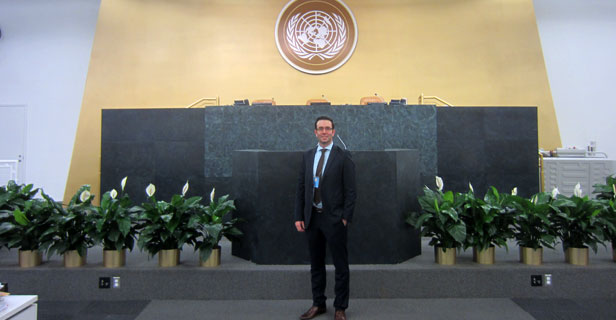 Austrian Youth Delegate speaks at the United Nations in New York
This year's Austrian Youth Delegate to the United Nations, 25 year-old Aleks Semerciyan, attended the United Nations General Assembly in New York, as a member of the official Austrian delegation in October. This voluntary position was established by the Austrian National Youth Council, (Bundesjugendvertretung (BJV), www.jugendvertretung.at), the representative body of children and young people in Austria. The engagement of young people in the work of the United Nations is  crucial to achieving a better world. In New York the Youth Delegate has been working closely with the Permanent Mission of Austria in New York with his main focus on children and youth issues.
At the very beginning of the Third Committee, which deals primarily with social, humanitarian and cultural affairs, Aleks gave the opening speech (Video Link: http://www.youtube.com/watch?v=Lm7EJ_HE7Xc) on behalf of Austria on 7 th October 2013 and then actively participated in many sessions of the Committee.  His main responsibility is to follow the negotiation process of the UN Resolution on Youth, which is adopted every other year and deals primarily with the social inclusion of young people in all areas of life (e.g. development, education, employment as well as human rights).
As Austrian Youth Delegate, Aleks is focusing on the topics of youth participation, the Millennium Development goals post-2015, children and youth in a post-conflict era, Children Rights and International Criminal Justice. Before going to New York he met regularly with representatives of Federal Ministries and Non-Governmental Organizations (NGOs) and also young people in Austria to raise the awareness of these issues and to promote the work of the UN Youth Delegates.
The Youth Delegate had an intensive programme during his time in New York. Aleks attended informal negotiations of various UN resolutions, met UN Youth Delegates from other countries, and organized several informative panel discussions and meetings together with the UN Youth Delegates.
You can read more about Aleks' experience at a UN Youth Delegate on his blog http://unjugenddelegierter.wordpress.com/ and follow him on his Facebook page: https://www.facebook.com/unyouthdelegate.at