Events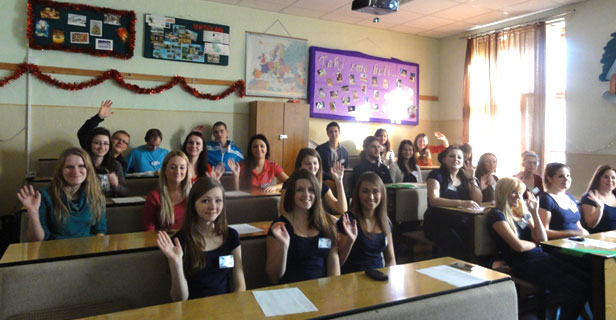 Students from Levice mark Human Rights Day
Students from the Business Academy High School in Levice, Southern Slovakia, marked the Human Rights Day - through an international video conference with their Romanian partner school Colegiul Pedagogic C. Bratescu based in Constanta, Eastern Romania, on Tuesday 10 December 2013.
Students listened to the message for the day from the UN Secretary-General Ban Ki-moon and discussed several articles of the Universal Declaration of Human Rights and the current state of human rights, especially in Slovakia and Romania. This time they also paid special attention to the memory of Nelson Mandela. A presentation about children´s rights, the Sakharov Prize for Freedom of Thought and a role play on human rights were also a part of the workshop as well as side events including a school radio programme, an information stand and a photo exhibition on children´s human rights.
The rich programme was prepared by about 50 students associated in the school Human Rights Club based at the Business Academy Levice, run by teacher Zuzana Meszárošová, and Romanian students led by teacher Cristina Gila, in cooperation with the United Nations Information Service (UNIS) Vienna. The event was also featured in local media in Slovakia.