Events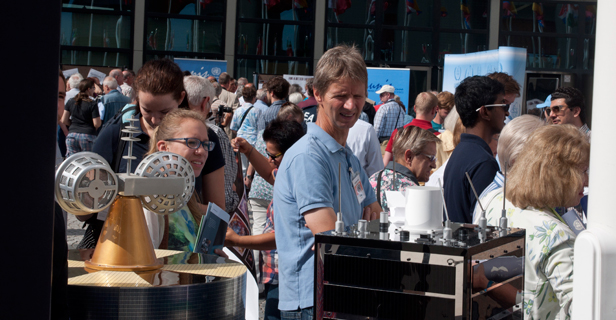 More than 2,000 people visit 'UNO City' to mark 35 years of Vienna International Centre
Nobody could predict how many people would show up on Friday, 15 August, to join free guided tours at the Vienna International Centre (VIC), home to the United Nations in the Austrian capital for the past 35 years. It was, after all, a beautiful summer's day and an Austrian public holiday. Yet long before the doors opened, it was clear there was lively interest in the event as a steadily growing number of people joined the queue, which soon stretched from the VIC entrance to the adjacent underground station.
In all, members of the Vienna-based UN organizations welcomed more than 2,000 visitors from Austria and abroad at an exhibition area that was arranged around the main Memorial Plaza, offering information on various UN related topics. Give-aways such as posters, badges, stamps and information material as well as quizzes and the chance to pose for photographs proved a hit with children and adults.
This was a major VIC team effort - coordinated by the UN Information Service (UNIS) in Vienna - that involved contributions from the UN Office at Vienna, Security and Safety Service, Conference Management, Buildings Management, General Services and a wide range of Vienna-based organizations.
Guides gave dozens of tours in German and English. Visitors were able to sit in a conference room, hear a presentation from Security's dog handlers - and see the dogs - and learn more about the VIC's history and work.
The VIC was officially opened on the 23 August 1979 and handed over to the United Nations and the International Atomic Energy Agency (IAEA). Commonly known locally as 'UNO City', the complex comprises about 4,500 offices. Some 4,400 people work at the VIC from about 120 countries. Approximately a third of the staff are Austrian.
The free guided tours day was widely covered by the Austrian media and even the Austrian Chancellor, Werner Faymann, publicised the event in advance on his Facebook page.
At the exit, people were asked to fill out a feedback form. Many useful and inspiring comments will help further improve the quality of UNIS's Visitors' Services and planning for similar future events.
Guided tours are available at the VIC Monday to Friday throughout the year for a small fee.
Linda Petrick, UNIS Vienna