Events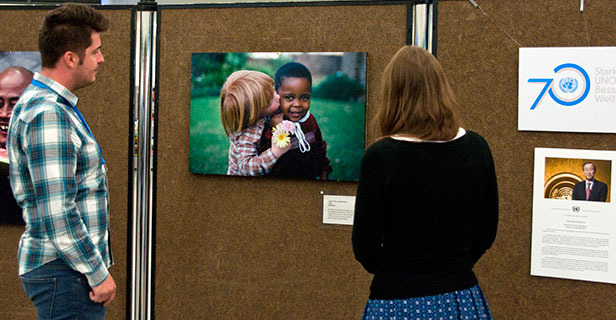 "We the peoples" exhibition currently on display at the Vienna International Centre
We can once again witness the powerful impact of photography: depicting UN staff and the individuals they work for every day, the "We the Peoples" exhibition, currently at the Vienna International Centre (VIC), leaves nobody indifferent.
The photo exhibition was curated by UN Photo together with the International Photographic Council and consists of 50 unique photos which portray the work of the United Nations over the past seven decades.
On behalf of the Director-General of the UN Office at Vienna, Yury Fedotov, the Deputy Director-General, Dennis Thatchaichawalit, stressed that the 70th anniversary of the United Nations was both a time for reflection and a time for renewed commitment and redoubled action.
The exhibition was opened on 2 September and will be on display at the VIC until 11 September 2015 before moving on to the Vienna City Hall. It will then continue its journey to Germany and afterwards to Hungary, where it will be shown at the Budapest Human Rights Forum.