Events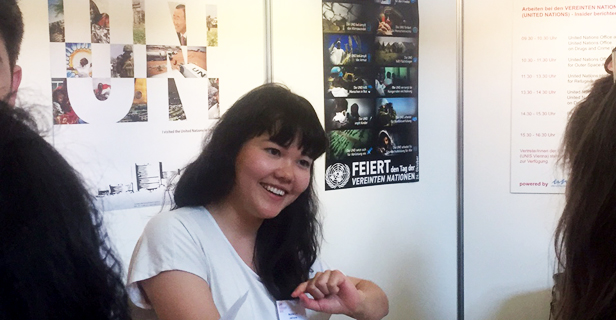 Working for the United Nations: UNI SUCCESS, University of Vienna careers fair
This year's UNI SUCCESS - the annual careers fair organized by the University of Vienna careers service, UNIPORT - attracted more than 5,000 students and recent graduates. They want to find out how to jump start their own careers and hear more about career opportunities including at the United Nations.
Representatives from a wide range of companies and organizations from different sectors set up information stands in the main campus of the university. Besides encouraging students attending the fair to chat to potential future employers, several side-events were also held, such as company presentations , an interview simulation, soft skills workshops and even a photo booth where students could have professional pictures taken for their résumés.
Staff members from several Vienna-based UN organisations were also present, to speak about their personal careers and advise students and recent graduates on employment opportunities at the United Nations. There was information material and guidance about applying for UN entry-level jobs in particular through the Young Professionals and the Associate Expert Programmes. Many students asked about internships opportunities at the UN in Vienna.
The Director of the United Nations Information Service in Vienna, Martin Nesirky, gave two presentations on working for the UN which were well-attended.
The careers event was also an opportunity to debunk misconceptions: many students were surprised to learn that the United Nations employs people from all kinds of professional and educational backgrounds, from humanities to hard sciences. Through conversations with UN staff members, students were offered personal insight into the reality of working for the United Nations, and some may have been inspired to pursue a career at the United Nations themselves.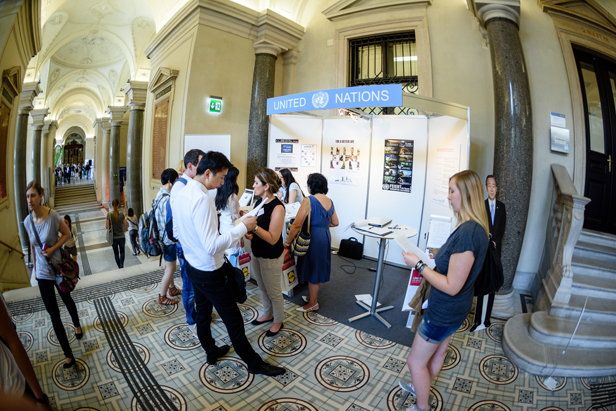 photo credit Klaus Ranger