Events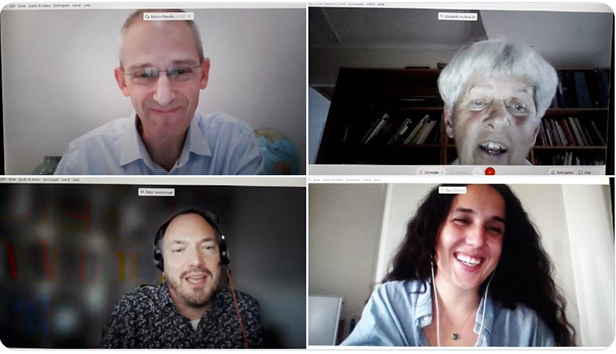 Virtual Ciné-ONU event to mark World Mental Health Day

World Mental Health Day on 10 October, and the whole of October, is an important time to draw attention to various forms of mental illness. Refugees and asylum seekers - many traumatized - are a particularly affected group but are often forgotten in the public discussion about mental health.
To shed light on this, the UN Information Services (UNIS) in Geneva and Vienna and the UN Regional Information Centre (UNRIC) in Brussels organized the third joint Ciné ONU online event with the film "Wake Up on Mars" and a virtual discussion on 7 October with experts and film director Dea Gjinovci, moderated by UNIS Vienna Director Martin Nesirky.
The film tells the story of a family that tries to start a new life in Sweden after a traumatic escape from their homeland. The two daughters suffer from the rare "Resignation Syndrome", which leaves them in a comatose state. The younger son relates his dream to build a spaceship to fly to Mars, away from problems on Earth.
"I wanted the film to be seen through the eyes of a young child because it's a disease that is only suffered by kids," said film director Dear Gjinovci during the discussion moderated by UNIS Vienna Director Martin Nesirky.
Dr. Elisabeth Hultcrantz, who has worked with the Demiri family portrayed in the film, said the trigger for the syndrome is often the fear of reliving trauma. Mental health is linked to a sense of security and opportunity. "What keeps people going is a feeling of agency, some sense of control of your life," said Pieter Ventevogel, Senior Mental Health Officer at UNHCR.
An aspiration that still seems beyond the Demiris' reach. Two days after the online event,  Gjinovci reported the family's application for permanent residency had been rejected: "Ibadeta and Djeneta woke up last year and were doing much better in the past few months, but now we are scared that this decision could really set them back and endanger their health."
Ciné-ONU screenings are usually held at local cinemas in various cities across Europe. Due to the pandemic and related restrictions, UN colleagues in Brussels, Geneva and Vienna joined forces to hold virtual events to stay connected with the audience during these special times.