Events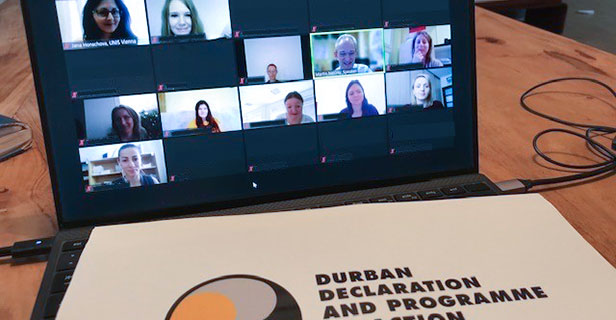 Fighting racism and misinformation online through education – second series of workshops for teachers provides methods and strategies
More than 40 teachers from Austria and Slovakia took part in two workshops addressing racism, hatred and misinformation online, organized by the United Nations Information Service (UNIS) Vienna in cooperation with the Austrian NGO ZARA Training, the University College of Teacher Education (KPH) Vienna/Krems, Austria and the State Pedagogical Institute, Slovakia. The workshops were held virtually on 16 and 26 November and offered in light of the 20th anniversary of the Durban Declaration and Programme of Action.
In his opening remarks to both sessions, UNIS Vienna Director Martin Nesirky recalled the importance of the Durban Declaration and shared information about the UN initiative "Verified" to fight misinformation, including the campaigns #TakeCareBeforeYouShare and "Pledge to Pause". The Permanent Representative of Slovakia to the UN (Vienna), Ambassador Radomir Bohac, delivered inspirational opening remarks at the workshop for teachers from Slovakia, joining from many different schools across the country.
The interactive workshops were held by coaches from ZARA Training, specialised in engaging young people and adults on the topics of anti-racism and bystander intervention online.
The focus of the workshops was on how to fight online harassment, racism and misinformation and to understand how harmful messages spread on social networks and messenger services. The trainers and the participants agreed on the importance of taking action to support those who receive abusive messages online. The coaches also provided useful tips and strategies on how to deal with and report such incidences. During the workshops, teachers also exchanged and discussed their own experiences and shared insights into how they addressed those topics in the classrooms.
The coaches also steered the participants to ZARA´s yearly report on online hate which indicates that racism is one of the most common ideological motivations for online abuse. ZARA offers consultation for people affected by online abuse and harassment and help to report it. One of the participants mentioned that she turned to ZARA when there was a case of online harassment in her class and said ZARA's team has been of a great help for the parents whose child had been involved in this situation.
Many of the participants expressed their appreciation for the practical exchange and the informative and interactive training session: "Thank you for all your ideas, activities and resources we can use in our work with students," said one of the teachers joining from Slovakia.
"The 20th anniversary of the Durban Declaration and Programme of Action offers an important opportunity to reflect on where we stand and where we need to go. Racism and racial discrimination still permeate institutions, social structures, and everyday life in every society. Structural racism and systematic injustice still deny people their fundamental human rights." – UN Secretary General António Guterres