Events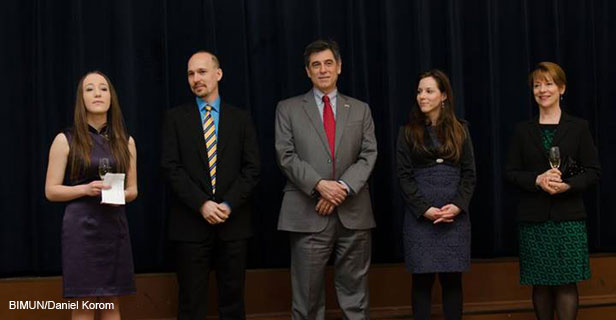 The 4th Budapest International Model United Nations
BUDAPEST, 15 April (UN Information Service) - Around 360 high school pupils and 200 university students from almost 30 different countries took part in the fourth annual Budapest International Model United Nations (BIMUN) which took place from 11-15 April 2014.  The five-day long event in the Hungarian capital city, was hosted by the Eötvös József Secondary School, one of the most prestigious secondary schools in Hungary, the Corvinus University of Budapest and the Eötvös Loránd University.
The President of the United Nations Association of Hungary, Mihály Simai, opened the university part of the BIMUN. He highlighted the 70th anniversary of the United Nations next year and stressed the importance of people supporting the United Nations to maintain its relevance. He reminded participants that the UN Charter begins with the words, "We the peoples" and not with "We the governments". The support of people can include not only financial but political and moral support. Mr. Simai emphasised also that the relationship between the people and the UN is very important and that BIMUN makes a key contribution to that.
There were other representatives from the Ministry of Foreign Affairs of Hungary and from the United States Embassy in Hungary. As UNIS was the main patron of the BIMUN, Judit Vadlövő, Consultant for Hungary for the United Nations Information Service in Vienna (UNIS) was invited to the BIMUN Diplomats' Soirée. There university students from all over the world discussed the role of youth in diplomacy and how to inspire future generations in an informal setting.
How to encourage sustainable development and the Sustainable Development Goals (SDGs) was the main theme of BIMUN 2014. Other topics that were the subject of negotiations included: cyber warfare; the promotion of greater transparency in military expenditures; towards a new arms trade treaty; enforcement of the rights of indigenous people in Latin America; digital currency and the potential impact on the real economy; terrorism as a threat to international peace and security; combating child abuse with a special emphasis on online abuse; human rights in employment for people with HIV and AIDS; measures to improve the safety and accessibility of drinking-water in Africa; and securing maternal, new-born and child health in war-torn areas.