Events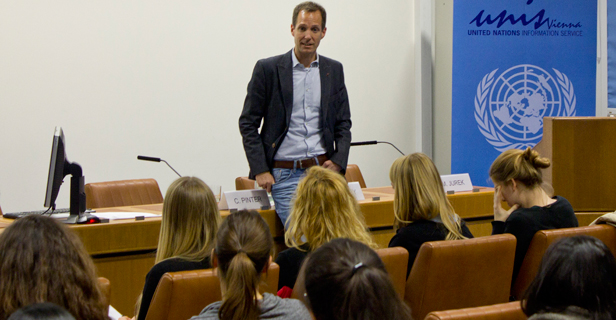 Working for the UN: "JobCheck 2014" Career event at UNIS Vienna
How can I work for the United Nations? Where do I start? Does the United Nations provide a family-friendly working environment?
These were some of the questions asked by more than 90 law students from the University of Vienna, who had a chance to discover different possible career paths at the UN during a career event called "JobCheck" on 30 October 2014 at the Vienna International Centre.
After a general introduction on UN careers by UNIS Director Martin Nesirky, five UN Staff members from different Vienna-based organizations-all from law backgrounds-shared their professional experiences with the students and revealed the variety of possible career paths available for lawyers within the organization.
"We work in many different capacities, on the field and often in very difficult circumstances. But we act; we make a difference," said UNIS Director Martin Nesirky when opening the panel discussion with invited UN employees. "We need people from a huge range of educational and professional backgrounds," mentioned Mr. Nesirky while introducing various types of employment within the UN System.
Among the five UN staff members joining the event were Christoph Pinter , Head of the Office of the UN High Commissioner for Refugees (UNHCR) in Austria, Constanze von Soehnen , Associate Anti-Corruption Expert at the United Nations Office on Drug and Crime's (UNODC), Matthias Jurek , Contractor at the United Nations Environment Programme, Vienna (UNEP) / Interim Secretariat of the Carpathian Convention, Sinead Harvey, Associate Programme Officer at the United Nations Office for Outer Space Affairs (UNOOSA) and Sonheong Jang , Associate Expert (JPO) at the International Trade Law Division, United Nations Commission on International Trade Law (UNCITRAL).
After the official panel discussion, all the participants split into smaller groups to discuss their career plans with the respective UN employees and receive valuable insight on working for the United Nations. "If you want to try something new, do it. Don't be afraid of change. Go on a field mission, you will get much more responsibility there," advised Sinead Harvey from UNOOSA. Christoph Pinter from UNHCR underlined the importance of undertaking internships for further professional development: "All my internships were very useful. You get familiar with how the system works. You have to be very flexible if you want to build a successful UN career."
The JobCheck 2014 career event was organized by the United Nations Information Service (UNIS) Vienna in cooperation with UNIPORT, the career service of the University of Vienna.