Events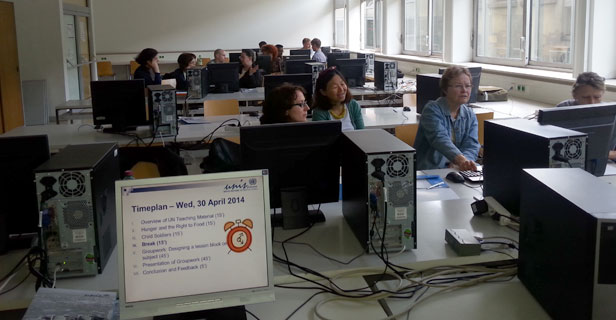 Teaching the UN - how teachers can use UN educational material
"No education system is better than its teachers. Teachers are the custodians of learning; they impart knowledge, values and skills; at their best, they tap into the hopes and talents of young people and help them to grow into productive citizens," said UN Secretary-General Ban Ki-moon in his message for World Teacher's Day.
The United Nations Information Service (UNIS) in Vienna organized a two-day workshop, entitled "The United Nations and global challenges for English teachers", in cooperation with the University of Teacher Education in Vienna (Pädagogische Hochschule Wien). The workshop, held on the 25 and 30 of April, offered sixteen English teachers the opportunity to learn more about the UN's work and to become familiar with UN learning tools and services developed both for teachers and students.
On the first day of the workshop, held at the Vienna International Centre, the teachers took a guided tour of the Vienna-based UN Organizations. UNIS Acting Director, Martin Nesirky welcomed them and talked about the importance of education and the crucial role teachers play in contributing to a healthy functioning society. The first day ended with a lecture held by Ruth Schöffl and Marie-Claire Sowinetz from the Office of the United Nations High Commissioner for Refugees (UNHCR) in Austria, who introduced the work of UNHCR and presented teaching materials about refugees.
On the second day of the workshop, the participants were invited to the University of Teacher Education in Vienna, where Aurora Butean, Antonia Seilern, Džana Šorlija and Judith Ulirsch from UNIS presented UN teaching materials on refugees, hunger and child soldiers. The UN offers a vast array of educational resources, ranging from classic teaching material such as lesson plans to more interactive material, for example comics, games, competitions, campaigns, mobile apps and interactive platforms, which are all accessible online. The presentation was followed by group work, where the teachers designed a sequence of lessons on the topics presented, integrating the UN teaching materials. After presenting their results, the group discussed the relevant points and challenges they face when discussing sensitive topics with their students.
The UN learning tools and services were developed and are constantly updated to serve the learning goals of students and to help teachers introduce the UN's work to the students.