Events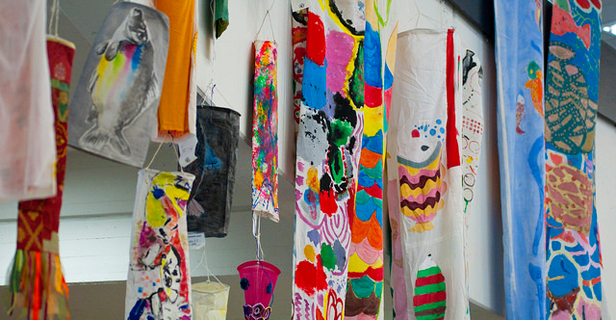 Commemorating the 70th Anniversary of the Atomic Bombing of Hiroshima and Nagasaki
"We have to work tirelessly to ensure that nuclear weapons are never exploded again"
"Hiroshima and Nagasaki keep educating generations that courage and determination are ideals to which we all have to inspire. It is certainly our duty to reach for the world free of nuclear weapons," said Péricles Gasparini, Chief of United Nations Office for Disarmament Affairs (UNODA) in Vienna, on the occasion of Atomic Bomb Memorial Day which took place on 6 August 2015 at the Vienna International Centre (VIC).
The Japanese artist Yuko Gulda, who has been campaigning for the past 20 years against atomic weapons, initiated the Atomic Bomb Memorial Day in Vienna, and it is now commemorated on 8 August each year. In cooperation with the Vienna NGO Committee on Peace and the United Nations Office for Disarmament Affairs (UNODA) in Vienna Yuko Gulda and her association Genbaku No Hi dedicated the gathering to all who lost their lives in Hiroshima and Nagasaki 70 years ago. "We are all aware that a peaceful world always seems too difficult to reach," she said in her opening remarks, calling for a prohibition of all nuclear weapons and other weapons of mass destruction.
August 6 this year marked seven decades since Hiroshima was bombed, followed by Nagasaki three days after; the only times atomic weapons have been used in war. In Hiroshima, up to 80,000 people were killed instantly, with estimates of more than 160,000 deaths in the four months after the bombing. In Nagasaki, an estimated 40,000 were killed instantly, and up to 80,000 in the following four months.
Jean Du Preez, Chief of External Relations and International Cooperation Section at the Preparatory Commission for the Comprehensive Nuclear-Test-Ban Treaty Organization (CTBTO), emphasized that "we have to work tirelessly to ensure that nuclear weapons are never exploded again - not in wartime, not in peacetime - and that these weapons are forever relegated to relics of the past". CTBTO Executive Secretary Lassina Zerbo attended ceremonies in Hiroshima and Nagasaki.
Additional speakers in Vienna included Gabriele Gil-Feigl, Minister Counsellor at the Permanent Mission of Austria to the United Nations in Vienna, Dr. Klaus Renoldner, President of the International Physicians for the Prevention of Nuclear War (IPPNW) Austria, and Bettina Schieraus from the International Fellowship of Reconciliation (IFOR) Austria.
In a message commemorating the 70th anniversary of the atomic bombing of Nagasaki, United Nations Secretary-General Ban Ki-moon paid tribute to all those who are striving to rid the world of nuclear weapons. "We cannot allow any future use of nuclear weapons. Their humanitarian consequences are too great (..) I echo your rallying cry: No more Hiroshimas. No more Nagasakis," he said. "Seven decades is far too long for the world to have lived in the nuclear shadow," said the UN Secretary-General, who sent a similar message to Hiroshima too.
Artistic highlights of the commemorative ceremony in Vienna included performances by Japanese soprano Taeka Hino, accompanied by pianist Hiromi Mitsuji-Landerl, and the UN Choir in Vienna, as well as a performance by the Japanese artist Yoshie Maruoka and Armin Stidl.
The ceremony was attended by numerous staff from the Vienna-based international organizations as well as representatives from Permanent Missions and civil society.