Events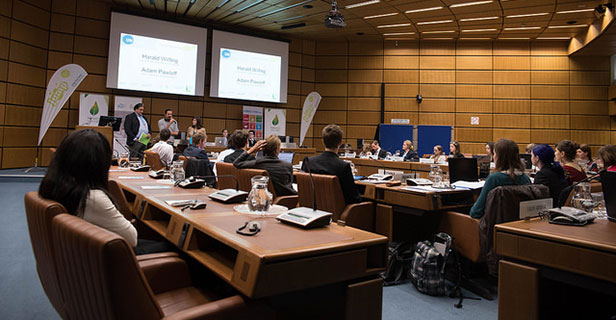 Climate Policy at first hand - Simulation of the Climate Change Conference
Vienna, 12 November 2015 - Thirty dedicated students from various disciplines and with different perspectives had the chance to experience international climate change policy up close a simulation of the upcoming Climate Change Conference in Vienna on 11 th and 12 th of November 2015. Many interested viewers came to watch the simulation which was being held for the second time; additionally the negotiations could be followed via live stream.
The conference took place in the Vienna International Centre, in rooms usually used by diplomats for international meetings with professional interpreters provided. So the participants were able to use their full language repertoire - they negotiated in English, German, French, Spanish and Turkish.
The programme 'UN Climate Reporters' was made possible by the youth environmental platform JUMP in collaboration with the University of Vienna, the University of Natural Resources and Life Sciences and the University College for Agrarian and Environmental Pedagogy. During lectures, students had been preparing for the realistic negotiations since June. In November they were finally allowed to put their acquired knowledge into action.
And this is how the simulation worked: the negotiation of parts of the draft agreement, which will also be negotiated at the COP21 taking place in Paris later this year, the students had the chance to discuss sensitive issues from different roles, as they represented 18 countries from all over the world. The aim was to consider the interests of countries such as Russia, Saudi Arabia, Ghana, as well as the vulnerable small island states to find common ground. This ambition turned out to be just as difficult as in real negotiations, for the students, after their long preparation period, strongly identified with their countries' role and they played it with both background knowledge and feeling. Each day the negations were evaluated by experts who responded to questions that arose.
Finally, after two days of negotiations the students succeeded in their difficult task: after exhilarating moderated sessions and intensive bi- and multilateral discussions, participants developed a draft, which - essential in real climate conferences - was adopted by consensus.  
Thanks to the thorough preparation of the participants, they will continue to follow the negotiations in Paris with interest, keeping their countries' position in mind.
More Information: http://www.jugendumwelt.at/unklimareporterin
Kerstin Weindl, Participant, Saudi-Arabia