Events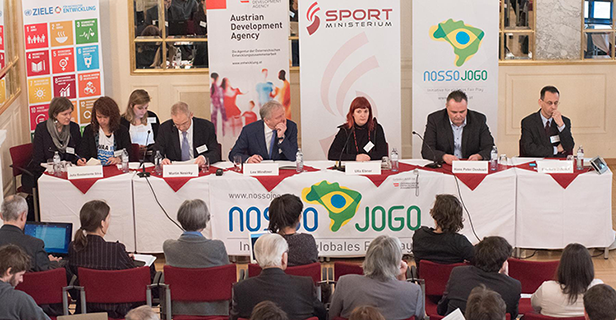 Sport events and their contribution to human rights discussed at the Congress on Sport and Human Rights
VIENNA, 10 March 2016 -  The importance of human rights at mega sport events was the focus of the Congress on Sport and Human Rights in Vienna, organized by Nosso Jogo - an initiative of VIDC-fairplay, the Ministry of Defence and Sports and other partners. With just a few months to go until the start of the 2016 Olympic Games in Rio de Janeiro, Brazil, the Congress considered a wide range of issues including the impact on Brazil and how Austria can be involved. 
One panel provided different views on the topic "Mega sport events, human rights and the example of Rio 2016. What role can Austria play? The International Level" and brought together international specialists from both the sport and human rights sector. Among the panellists were Hans Peter Doskozil, Minister of Defence and Sports, Evandro Didonet, Ambassador of  Brazil to Austria, Leo Windtner, President of the Austrian Football Association (ÖFB) and human rights activist Julia Bustamante Silva from Rio de Janeiro.
Martin Nesirky, Director of UNIS, represented the United Nations at the panel and gave an insight into the work of the United Nations Office on Sport for Development and Peace (UNOSDP). He also raised the important link between sport and the 17 Sustainable Development Goals (SDGs). Minister Hans Peter Doskozil criticized the unsustainable nature of mega sport events of the past and emphasized the power of sport to raise awareness about important topics like migration.
Ambassador Evandro Didonet and Julia Bustamente Silva provided detailed information on the unique challenges Brazil will face as the Olympic Games approaches. In her position as human rights activist, Julia Bustamente was knowledgeable about local problems, for example the lack of access to information for the Brazilian people as well as thousands of cases of forced displacements.
In sum, the panellists agreed on the importance of incorporating human rights in all sport-related events, especially the forthcoming 2018 Winter Olympics in South Korea, the 2018 FIFA World Cup in Russia and the 2022 FIFA World Cup in Qatar. These events must be seen as great opportunities to show the world how sport and human rights can go hand in hand.