Events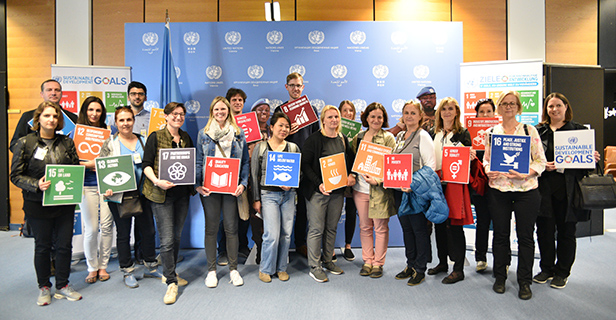 Sustainable Development workshop for English Teachers at UNIS
On 17 and 19 April 2018, 19 teachers from 17 grammar schools and new secondary schools in Vienna attended a training seminar on "Teaching the United Nations and the Sustainable Development Goals". The seminar was held at the Vienna International Centre (VIC) and at the University College of Teacher Education in Vienna (PH Wien), and organized by the United Nations Information Service (UNIS) Vienna in cooperation with the Office of the United Nations High Commissioner for Refugees (UNHCR) in Austria and PH Wien.
Teachers were invited to a guided tour of the VIC on the first day of the seminar. The tour showcased the work of Vienna-based organizations and how those organizations strive to help implement the Sustainable Development Goals (SDGs). UNIS Vienna Director Martin Nesirky welcomed the participants and emphasized the importance of the teaching profession and its far-reaching impact on society in his introductory remarks.
Johanna Kleinert, Chief of the Visitors Service in UNIS Vienna, informed teachers about tour options for school groups at the VIC. Irene Hoeglinger-Neiva, Head of the Outreach Unit in UNIS Vienna, showed participants the tools and information materials available to teach the 17 SDGs in the classroom and presented special initiatives, such as the "UN in the classroom" programme, where UNIS Vienna provides interactive workshops at local schools.
On the second day at the PH Wien, Ruth Schoeffl from UNHCR Austria spoke about the organization's work and the situation of refugees in Austria and in other parts of the world, and how topics such as asylum, refugees and integration can be discussed with students.
The main purpose of the two-day seminar was to provide teachers with information on the vision and core values of the United Nations and its work in relevant socio-political areas. At the same time, valuable insight was offered on how themes relating to the work of the United Nations and sustainable development can be presented to children in a fun, accessible way during English lessons. UNIS Vienna, UNHCR Austria and many other UN organizations have developed special educational materials such as games, videos and online materials to help young students understand the main role of the United Nations. By learning about the SDGs and refugees, students are encouraged to actively contribute to the achievement of the SDGs and to understand the situation and needs of refugees and asylum seekers.
The teachers were eager to use the material and tools presented to them and appreciated the practice-oriented online teaching materials and publications. In addition, some of the participants showed interest in receiving further information on the "UN in the classrooms" by inviting UNIS staff to provide workshops for their students.