Events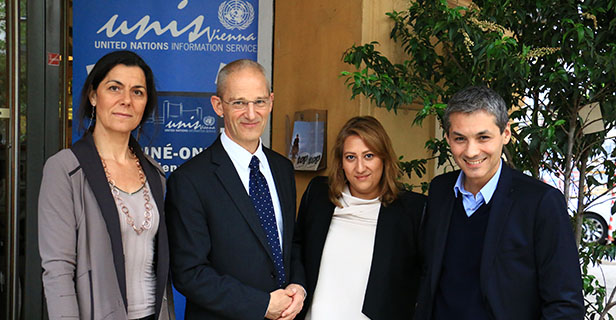 "Under the Wire" - Ciné ONU Vienna screening to mark World Press Freedom Day
The film, 'Under the Wire', by director Chris Martin tells the story of war correspondent Marie Colvin and her photographer Paul Conroy on their journey to Syria in 2012, covering the plight of civilians trapped in the besieged city of Homs, under attack by the Syrian army. Only one of them returned. Their footage is so vivid and immediate that it places the viewer right at the heart of events. The audience found itself beside the duo and could feel the shudder of shell fire and witness the countless lives lost with them.
The Austrian premiere of the documentary 'Under the Wire' was shown to mark the World Press Freedom Day, by the United Nations Information Service (UNIS) Vienna in cooperation with the International Press Institute (IPI)and this human world film festival at Topkino as part of Ciné ONU Vienna.
The gripping movie was followed by a panel discussion with three guests who are actively working towards press freedom around the world: Barbara Trionfi, Executive Director at the International Press Institute (IPI), Mehdi Benchelah, Senior Project Officer from the Division for Freedom of Expression and Media Development at the United Nations Educational, Scientific and Cultural Organization (UNESCO) and Deniz Yazici, Senior Adviser at the Office of the Representative on Freedom of the Media, Organization for Security and Co-operation in Europe (OSCE).
According to Barbara Trionfi: "The core message of the film is the need to counter propaganda with real information, as the world was still receiving information from the Assad government that only military targets were being shelled."
Deniz Yazici said that: "The free flow of information is the reason why we know things, why there are possibilities to hold regimes accountable in the future. So it's absolutely critical that the information is shared across borders."
According to UNESCO, almost 100 journalists were killed in 2018. "More and more journalists are getting killed because they are reporting on cases of corruption or political wrongdoing," stressed Mehdi Benchelah.