Events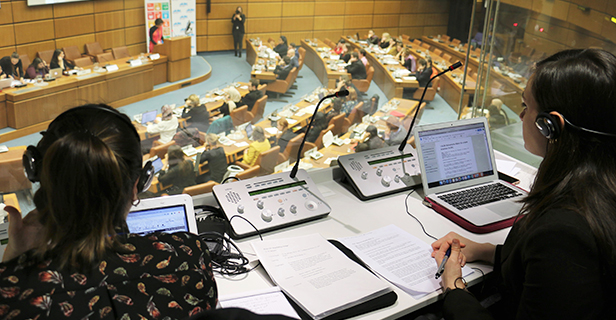 Model United Nations delegates debate the global challenge of environmental migration and rural employment with live interpretation in eight languages
From 17   to 18 January 2019, university students from around the world attended the Model United Nations (MUN) conference on environmental migration and rural employment at the Vienna International Centre. The conference was organized by the University of Vienna and the University of Natural Resources and Life Sciences (BOKU) Vienna and supported by the United Nations Information Service (UNIS) Vienna and UN Environment, Vienna.
The opening ceremony included remarks by Ambassador Gabriela Sellner, Permanent Representative of Austria to the United Nations (Vienna), Martin Nesirky, Director of UNIS Vienna and Magnus Andresen from UN Environment. The speakers jointly highlighted the importance of the topic chosen and emphasized the immediate need to deal with the matter on a global level. Magnus Andresen particularly stressed the importance of fast and global action to avoid the catastrophic impacts climate change could have on us all.
The simulation conference was supported by live interpretation services throughout the entire negotiation. Young interpreters from UNIVERSITAS Austria Interpreters' and Translators' Association used the UN interpretation booths providing simultaneous interpretation into the various languages, including Dari/Farsi, English, French, Italian, German, Russian and Spanish. The students showed their in-depth knowledge of the topic, with effective negotiation tactics, solid presentation skills and their convincing speeches.
One of the delegates, Susanne Wangert, who is studying Environmental Science at BOKU Vienna, said: ''The conference is a good preparation for real working life. It is interesting to experience how you can work to find a consensus. And that is the exciting part of the UN. It is really thrilling to see how the United Nations are always trying to find consensus and to discuss matters until they are really resolved."