Climate Change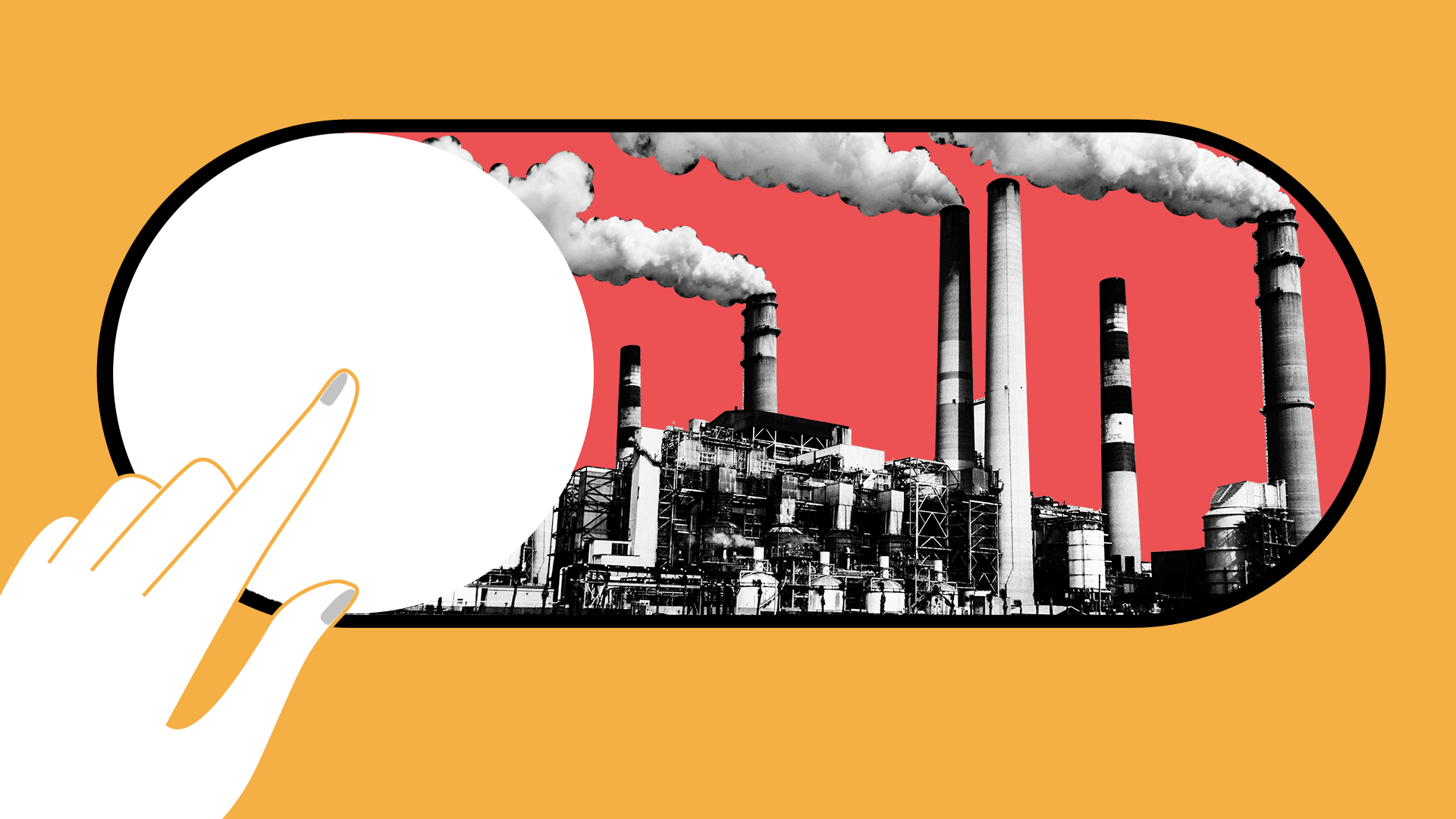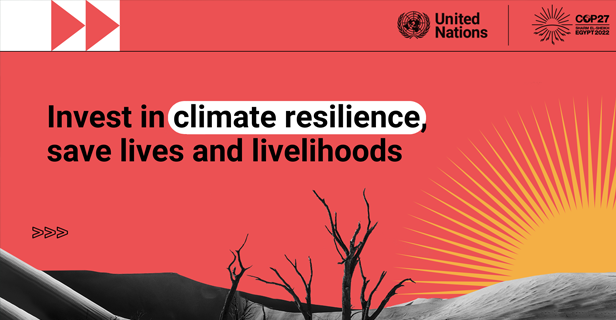 COP27: What you need to know about the UN Climate Conference
This year's UN Climate Conference takes place in Sharm el-Sheikh, against a backdrop of extreme weather events worldwide, an energy crisis propelled by the war in Ukraine, and scientific data reiterating that the world is not doing enough to tackle carbon emissions and protect the future of our planet.
Mitigation: how are countries reducing their emissions of greenhouse gases?
Climate Change Mitigation can mean using new technologies and renewable energy sources, making older equipment more energy efficient, or changing management practices or consumer behaviour.
Countries are expected to show how they are planning to implement the Glasgow Climate Pact, to review their climate plans and create a work programme related to mitigation.
Adaptation: how are countries going to adapt and help others do the same?
Climate change is here and countries must adapt to climate consequences so that they can protect their citizens. There is the risk of more fires or floods, droughts, hotter or colder days or sea-level rise, depending on the location.
Last year, developed countries agreed to at least double finance for adaptation, and many stakeholders are calling for even greater levels of adaptation funding to match the amounts that are now being spent on mitigation, as established in the Paris Agreement. This will definitely be a big conversation topic at Sharm el-Sheikh.
What is this 'loss and damage' issue that we hear so much about?
Climate change, through extreme weather events such as tropical cyclones, desertification and rising sea levels, causes costly damage to countries.
Because the intensification of these otherwise "natural disasters" is being caused by the rise in greenhouse gas emissions, mostly from rich industrialized countries, developing countries - often the most affected - argue that they should receive compensation. There have been discussions around establishing a 'Loss and Damage fund', but nothing concrete.
Around 30,000 people are registered to attend representing governments, businesses, non-governmental organizations and civil society groups. The conference runs from 6 to 18 November in Sharm El-Sheikh, Egypt.
---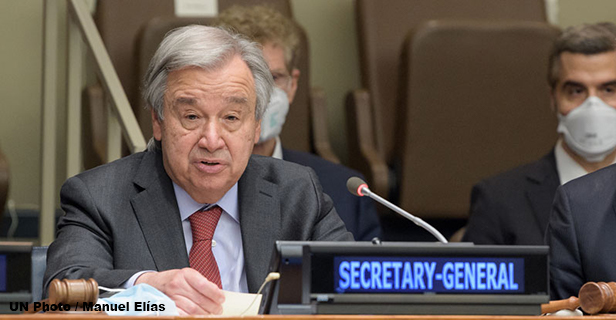 The World Is Burning. We Need A Renewables Revolution.
By António Guterres, Secretary-General of the United Nations
Nero was famously accused of fiddling while Rome burned. Today, some leaders are doing worse. They are throwing fuel on the fire. Literally. As the fallout of Russia's invasion of Ukraine ripples across the globe, the response of some nations to the growing energy crisis has been to double down on fossil fuels – pouring billions more dollars into the coal, oil and gas that are driving our deepening climate emergency.
Meanwhile all climate indicators continue to break records, forecasting a future of ferocious storms, floods, droughts, wildfires and unlivable temperatures in vast swathes of the planet. Our world faces climate chaos. New funding for fossil fuel exploration and production infrastructure is delusional. Fossil fuels are not the answer, nor will they ever be. We can see the damage we are doing to the planet and our societies. It is in the news every day, and no one is immune.
---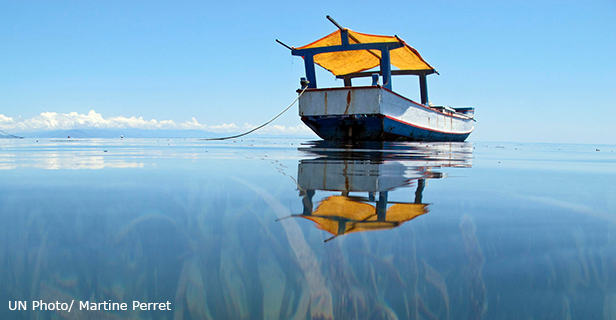 2022: The Year to Stop the Decline of the Ocean's Health
by Ambassador Peter Thomson, UN Secretary-General's Special Envoy for the Ocean
With every breath we take, we are connected to the ocean. The ocean gives us oxygen, provides us with food and livelihoods. It stabilises our climate, absorbing most of the heat trapped in the Earth's system. Billions of humans, animals and plants rely on a healthy ocean. But the ocean's health is in trouble.
Rising carbon emissions are making the ocean more acidic, weakening its ability to sustain life underwater and on land. Plastic waste is choking the ocean. And if we continue on our current track, more than half of the world's marine species may stand on the brink of extinction by 2100. Solutions exist to restore the health of the ocean, but they will require action from all parts of society, from world leaders down to every one of us.
---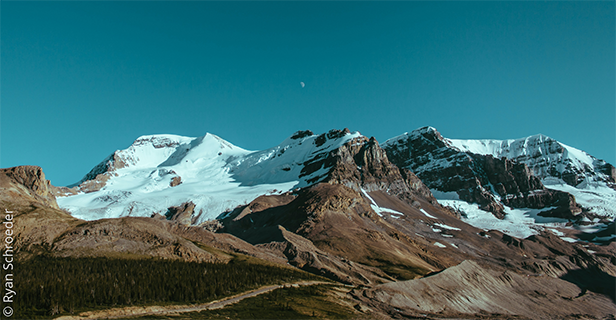 2022: International Year of Sustainable Mountain Development
More needs to be done to increase awareness of the importance of the conservation and sustainable use of mountain ecosystems, including their biodiversity.
The prevalence of poverty, food insecurity, social exclusion, environmental degradation and exposure to the risk of disasters is still increasing in mountain regions, particularly in developing countries. Access to safe and affordable drinking water and basic sanitation as well as to sustainable modern energy services continues to be limited in some mountain regions.
The International Year of Sustainable Mountain Development was proposed by the Government of the Kyrgyz Republic, sponsored by 94 governments and adopted by the United Nations General Assembly in December 2021. It aims to highlight the importance of sustainable mountain development and the need to preserve mountain ecosystems.
---
COP26, Glasgow, November 2021
"2021 is a make-or-break year to confront the global climate emergency." UN Secretary-General António Guterres
COVID-19 has not stopped the climate crisis. Emissions continue to rise. This is an emergency. We are seeing a fast-growing coalition of countries, cities, regions, businesses and investors committing to net zero emissions by 2050. We need action NOW, on mitigation, adaptation and finance.
The UN Climate Change Conference (COP26) will take place in Glasgow from 1-12 November 2021.
By COP26 countries need to:
Join the growing global coalition for net zero by 2050;
Deliver concrete, more ambitious action plans (Nationally determined contributions known as NDCs)
Invest in green recovery, increase financing for adaptation, phase out coal, leave no one behind
Transition to climate stability and clean energy
As the climate emergency intensifies, the transition towards climate stability is becoming increasingly urgent. States need to fulfil their commitments under the Paris Agreement to combat climate change and keep the rise of the global average temperature below 2°C. To achieve this, we need to cut emissions from transport and industry and invest in renewable energy sources.
"Phasing out coal from the electricity sector is the single most important step to get in line with the 1.5-degree goal" - U.N. Secretary-General António Guterres (2021)
The Secretary-General has highlighted the importance of ending the use of coal as the "single most important step" the world can take to ensure climate stability. Solar technologies are a sustainable alternative to coal that help save the planet and cut energy costs.
The United Nations equips hundreds of health facilities in some of the poorest parts of the world with solar power – from solar rooftops to batteries. It has given them access to clean, affordable and reliable electricity, while saving money which can be re-invested in health services.
What else is the United Nations doing about climate change?
The UN family is in the forefront of the effort to save our planet.Through the Intergovernmental Panel on Climate Change (IPCC), the United Nations provides policymakers with scientific data on climate change, its impacts and future risks, as well as options for adaptation, resilience and mitigation.
The UN also provides a forum for bringing the world together to take collective action on climate change, through the UN Framework Convention on Climate Change (UNFCCC).
Around the world, the UN works to assist countries transition to climate-resilient and low emissions strategies while also helping those especially vulnerable to the effects of climate change to adapt to a more unstable climate.
Why is combating climate change important?
There is alarming evidence from the IPCC's report that important tipping points, leading to irreversible changes in major ecosystems and the planetary climate system, may already have been reached or passed. Ecosystems as diverse as the Amazon rainforest and the Arctic tundra, may be approaching thresholds of dramatic change through warming and drying. Mountain glaciers are in alarming retreat and the downstream effects of reduced water supply in the driest months will have repercussions that transcend generations.
Global agreements and cooperation
The 1992 "Earth Summit" led to the establishment of the United Nations Framework Convention on Climate Change (UNFCCC) as a first step in addressing the climate change problem. Today, it has near-universal membership with 197 countries having ratified the Convention. The Kyoto Protocol, adopted in 1997, legally binds developed country Parties to emission reduction targets.
Paris Agreement
In 2015 at the 21st Conference of the Parties to the UNFCCC in Paris, a landmark agreement was reached to combat climate change and to accelerate and intensify the actions and investments needed for a sustainable low carbon future. The Paris Agreement builds upon the Convention and - for the first time - brings all nations into a common cause to undertake take ambitious efforts to combat climate change and adapt to its effects, with enhanced support to assist developing countries to do so. As such, it charts a new course in the global climate effort.
The Paris Agreement's central aim is to strengthen the global response to the threat of climate change by keeping the global temperature rise this century well below 2 degrees Celsius above pre-industrial levels and to pursue efforts to limit the temperature increase even further to 1.5 degrees Celsius.
On Earth Day, 22 April 2016, 175 world leaders signed the Paris Agreement at United Nations Headquarters in New York. This was by far the largest number of countries ever to sign an international agreement on a single day.
Countering climate change at the UN in Vienna
Commitment to Climate Action, which is Sustainable Development Goal (SDG) number 13, is the responsibility of governments, organizations, cities, regions, businesses and investors. Many of the Vienna-based UN organizations are actively involved in achieving goal 13.
For example, the United Nations Industrial Development Organization (UNIDO) shares its expertise in green and innovative technology to help, amongst others, Mexico protect the Earth's ozone layer. In Myanmar and China, UNIDO has implemented a project to foster the usage of Corporate Social Responsibility (CSR) practices and methods.
The United Nations Office for Outer Space Affairs (UNOOSA) uses space technologies to monitor greenhouse gases related to deforestation and industrial processes, the changing of ice in polar caps and glaciers, sea-level rise and temperature.
The UN Environment Programme (UN Environment) provides support in the vulnerable mountain areas of the Western Balkans, South Caucasus, Central Asia, East Africa, and the Tropical Andes to adapt to the effect of climate change. For example, UN Environment makes roads more resilient to flooding and builds water reservoirs to help mitigate flooding from melting glaciers.
The Preparatory Commission for the Comprehensive Nuclear-test-ban Treaty Organization (CTBTO) supports research into icebergs and movements of glaciers, hurricanes and tornadoes, landslides and avalanches, seasonal and yearly variations of specific radionuclides, ocean processes and marine life through the data it collects.
Similarly, the International Atomic Energy Agency (IAEA) provides a platform for scientists to use nuclear techniques to study how agricultural practices can be optimized to protect resources while reducing emissions.