Events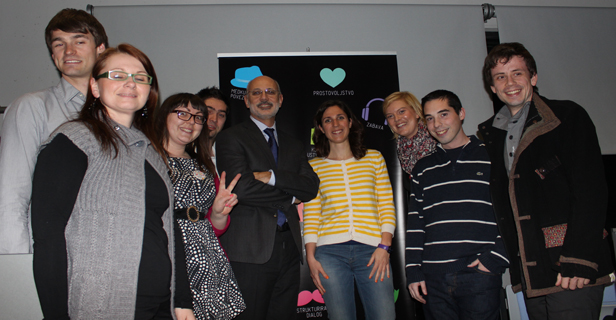 Youth engage UNIS Vienna Director in open debate on education, employment and empowerment in Maribor, European Youth Capital 2013
As part of the events Maribor, Slovenia hosts as the European Youth Capital 2013, university students invited UNIS Vienna Director Janos Tisovszky to an open debate on the theme of how United Nations is working with and for young people.
With the discussion focusing on education, employment and empowerment issues, the audience was eager to learn about youth related UN issues, what opportunities youth may have to engage with United Nations programmes and how youth can be part of the debates, discussions on various global issues the United Nations deals with as well as how young people can become part of the UN system as staff members, interns, associate experts, consultants or UN volunteers.
Questions from audience members and previously and randomly collected from young people in the city ranged from asking about the difficulties to achieve nuclear disarmament to pressing for predictions on how Europe may look in twenty years time.
Apart from engaging youth in the open debate in Maribor on 20 March, during his two-day visit from 20 to 22 March to Slovenia the UNIS Vienna Director also met with various officials, civil society groups and took part in a number of events, aimed at promoting the United Nations work to a wide audience in Slovenia. These included a panel debate on global and local challenges to water management hosted by the Slovene United Nations Association in observance of World Water Day on 21 March in Ljubljana as well as a UN Career Workshop at the University of Ljubljana for over a hundred students interested in possible careers with the United Nations.