Press Releases
For information only - not an official document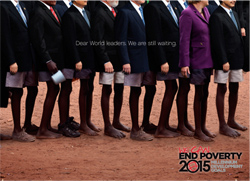 UNIS/INF/382
25 August 2010
Winner of UN Ads Against Poverty Competition announced
VIENNA, 25 August (UN Information Service) - Stefán Einarsson, 44, a graphic designer from Reykjavík, Iceland, was announced the winner of the UN Ads Against Poverty Competition for his work "We are still waiting", which calls on world leaders to live up to their promises of ending poverty.
The winner will be given the Spanish Presidency award by HM Queen Sofia of Spain at a ceremony in Madrid on Friday 10 September. The ceremony will also be attended by Spanish Secretary of State for International Cooperation Soraya Rodriguez Ramos, chairman of the jury Jacques Séguéla and UNRIC Director Afsané Bassir-Pour.
"I am, of course, delighted that I have won and I sincerely hope that this ad will remind our leaders that they have to keep their promises and achieve the Millennium Development Goals," said Einarsson.
The print ad competition, organised by the UN Regional Information Centre in partnership with European media, UN Information Centres in Europe and supported by the Spanish EU presidency, is part of a Europe-wide campaign to promote the Millennium Development Goals (MDGs). Over 2,000 entries from 34 countries were submitted.
"The level of participation and the quality of the Ads Against Poverty by the European creative community, professionals and amateurs alike, was beyond our wildest expectations. Interestingly, most people wanted to send creative messages to world leaders who will meet in September in New York to take stock of the progress of the MDGs. And there is much progress to report, but obviously not enough, and we can't be flat-lining now. Sincere thanks to our partners both within the UN, amongst the media and of course to our extraordinary jury - another example of the power of partnerships," said Mme. Afsané Bassir-Pour, director at UNRIC.
The winner was selected through popular vote and by a jury of prominent European advertising and marketing experts as well as artists, designers and UN communication experts, including Jacques Séguéla, the Vice Chairman of the international advertisement group Havas, British photographer Gary Knight, Dutch designer Piet Boon, Belgian fashion house Maison Martin Margiela, Director of the Moscow House of Photography Olga Sviblova, designer Neville Brody and United Nations Under-Secretary-General for Communications and Public Information Kiyo Akasaka.
Exhibitions with a selection of ads will be organized throughout the year in different countries. For the top 30 ads and further information, please see: www.wecanendpoverty.eu. If you are interested in organising an exhibition in partnership with any of our offices in Europe, please contact us.
Awards ceremony
Time: Madrid, 10 September 11 am.
Venue: Caixa Forum, Paseo del Prado, 36, 28014 Madrid, Spain
***
MDG review Summit
The High-level Plenary Meeting of the General Assembly will take place 20 - 22 September in New York, hosted by UN Secretary-General Ban Ki-moon. The objective is to take stock of proven successful initiatives and for governments to commit to a concrete action agenda to achieve the MDGs. http://www.un.org/en/mdg/summit2010/index.shtml
* *** *
For additional information please contact:
At UNIS Vienna:
Sonja Wintersberger
Deputy to the Director, UNIS Vienna
Telephone: (+43-1) 26060-3430
Email: sonja.wintersberger@unvienna.org
At UNRIC:
Afsané Bassir-Pour
Director, United Nations Regional Information Centre for Western Europe (UNRIC)
Telephone: (+32-2) 788-8450
Email: bassirpour@un.org
Arni Snaevarr
United Nations Regional Information Centre for Western Europe (UNRIC)
Telephone: (+32-2) 788-8467
Email: snaevarr@unric.org